There is no time like now to adopt a French Bulldog! Adoption is such a wonderful process that brings so much joy into an animal's life, as well as your own. However, there are a few things you will need to consider before adopting your French Bulldog.
The first is finding the right organization to adopt a French Bulldog from and that's what I'm going to help you with today! I put together a list of organizations to make it easy and informative for you. Here are the best French Bulldog Rescue and Adoption Centers to choose from:
The Best French Bulldog Rescue & Adoption Centers
1. Chicago French Bulldog Rescue
The Chicago French Bulldog Rescue is dedicated to protecting French Bulldogs from neglect, abuse, and the loss of family. They are a no-kill rescue that is volunteer-driven. There are always French Bulldogs for rescue at their organization.
If you are interested in becoming a foster home for a dog or volunteering, you can visit their website here for more information. They are happy to help you find the perfect French Bulldog.
2. French Bulldog Village Rescue
This organization is made possible by people all over the U.S. who have a love for French Bulldogs. Volunteers that foster the dogs help rescue, rehabilitate, and re-home French Bulldogs.
Their mission also includes advancing awareness and knowledge of the responsibility, acquisition, and ownership of French Bulldog for adoption.
If you'd like to join their growing team, you can visit the rescue's website HERE.
3. French Bulldog Rescue Network
There's a network of people who works hard to make sure you can adopt a french bulldog from their organization.
On their website, you can get a vast amount of information all about the French Bulldog breed and you are more than welcome to ask any additional questions you may have. There are several ways you can help their rescue network.
Some of the ways you can help are by fostering, donating, volunteering, and shopping their merchandise.
They also run a blog page so you can keep up to date with everything French Bulldog related. This is their website, HERE.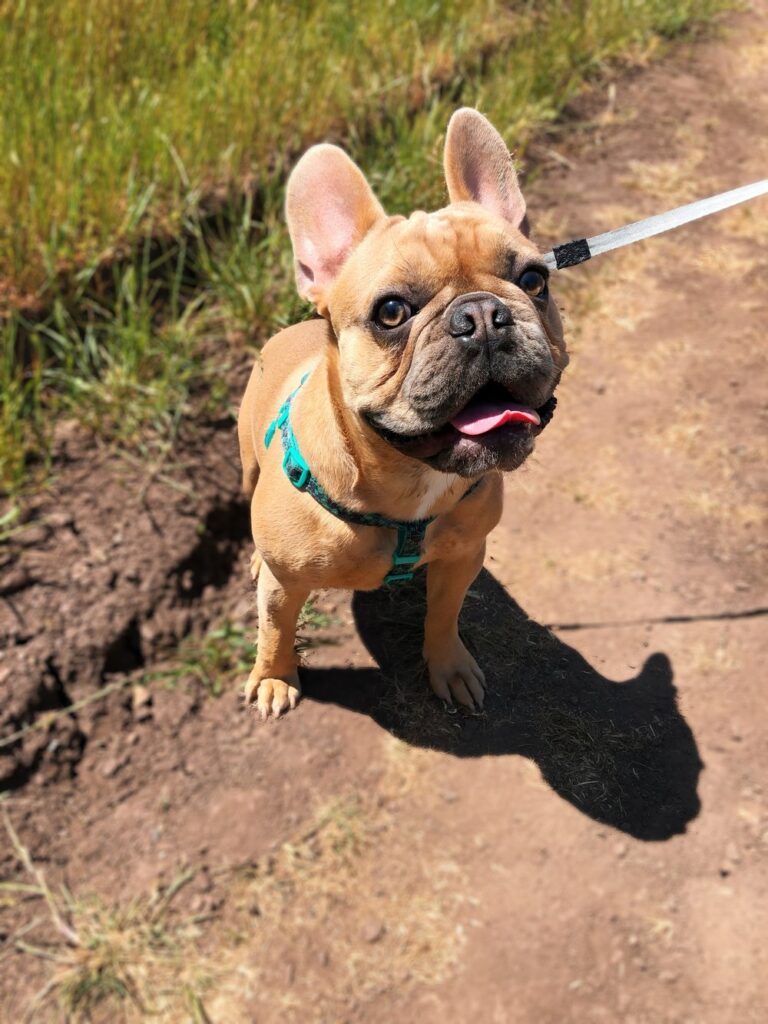 (Looking for new goodies for your French Bulldog? We've partnered with CHEWY to give our readers 40% off their first auto-ship!)
4. Petfinder
This website allows you to find French Bulldogs that are being fostered or that are in shelters or rescues throughout the U.S. It is a great tool to use if you are looking to adopt a French Bulldog or find a french bulldog for rescue.
They've also got the option to get in touch with the foster parents or organization owners through the website. Always do your research before adopting.
5. Aspca
Like petfinder.com, this website allows you to search their site for the dog or cat that is right for you. It is easy to select the breed you are wanting to adopt and they do the rest. You will be able to see all the French Bulldogs that are up for adoption in your area or further away.
The ASPCA is known for its love for pets and making sure that they are treated with love and care. So, this website might be the one for you to find a French Bulldog for rescue or adoption.
6. French Bulldog Second Chance Rescue
Meg, Kathy, and Kelly are the Board of Directors for FBSCR. Their mission is to take in and network with other rescues to save as many dogs who are in need of rescue as possible.
They will even take in dogs with special needs such as medical needs or behavioral issues. FBSCR is run by a large group of supporters and volunteers.
If you get in touch with them they will lead you to the closest French Bulldog for rescue. Their website is HERE.
7. Short Noses and Friends United Rescue (SNAFU Rescue)
SNAFU works hand in hand with FBSCR to help French Bulldogs find a home. They work hard to make sure that all French Bulldogs are rescued from the commercial breeding system (puppy mills). The individuals who work for SNAFU are unpaid volunteers.
They're also a 501(c)(3) tax-deductible non-profit organization which means they don't make a penny for any of their rescue services. SNAFU's team is all heart and is there to help all Frenchies.
SNAFU also has a Facebook page where you can see all of their updates. You can reach them HERE.
8. NorCal French Bulldog Rescue
As the name suggests, this rescue is based out of Northern California. If you are located in Northern California, this would be a great place to adopt a French Bulldog from. All of the volunteer's information is on their website under the 'Contact Us' link.
There you will be able to get in contact with someone who can help you find the perfect pup! If you are wanting to adopt from them you will need to fill out an adoption application first. On the website, you will be able to fill out the application online.
It will ask you all the necessary information to make sure that you are ready to give your French Bulldog the perfect forever home. You can see their website HERE.
9. Short Noses Only Rescue Team (S.N.O.R.T)
SNORT is a non-profit rescue in the Northeast focused on rescuing short nose breed type dogs from shelters and owners who can no longer keep them. Their dedicated team of volunteers works hard to find the best forever home for each dog they rescue.
To see dogs available for adoption you can go here and, when you're ready, you can submit an application, along with a $10 application fee here.
If your application is selected, you will be contacted for references, to conduct a phone interview and a home evaluation.
10. Buckeye Bulldog Rescue
This rescue is a non-profit rescue organization based in Ohio focused on rescuing French and English bulldogs. They do consider applicants from neighboring states if you are able to arrange for a car pick up and are within 2 hours drive.
To review their application guidelines and apply for an adoption, you can visit this page.
If you aren't ready to adopt you can help by fostering, volunteering, donating, or by shopping one of their affiliates.
Find out more about them here.
11. No Borders Bulldog Rescue
This non-profit rescue organization takes in dogs from shelters, owners who can no longer care for them, breeder retirees, stray dogs and even some from puppy mills. Their team of volunteers is committed to finding the perfect forever home for each dog they rescue.
No Borders Bulldog Rescue is able to work with applicants from all over the country thanks to a network of contacts and partnerships with other rescues based all over the United States. However, they do require you travel to Texas to meet/adopt the dog in person.
If you're interested in adopting an available dog you can find their application here.
If you'd like to donate your time, you can apply to be a foster or a volunteer.
Final Thoughts
Adoption is such a beautiful process, you get to invite an animal into your home and provide them with a lifetime of happiness. There are so many shelters and rescues out there who are ready to help you find the perfect French Bulldog.
A good rule of thumb when finding a particular dog breed is Google or lookup within the website the breed you are looking for. In this case, looking up a French Bulldog for rescue, a French Bulldog for adoption, or adopt a French Bulldog will be the best way to find your new pal.
Some more tips for having a smooth adoption is to prepare your home. Make sure you have all the pet supplies you will need to support your new fur baby!