French Bulldogs are one of the most popular breeds in the United States and there are several different clubs helping to maintain the welfare and pedigree of the breed.
For many dog owners, being a member of a breed club is a way to show the pedigree of their dog through breeding or competition. For others, it is more about the social aspect of organized events.
Whether you are a potential Frenchie owner, searching for a local breeder, or looking to participate in competitions, there will be a French Bulldog breed club near you. Most states have a breed club or you can join a regional club that covers several states.
What Is a French Bulldog Club?
A French Bulldog club is an organization usually run by owners or breeders aiming to promote quality within the breed and maintain the breed characteristics, while also ensuring the welfare of all members.
The breed club outlines the breed standard, which dictates the expected conformation of a pedigree French Bulldog and any recognised coat colours and markings. This applies mainly for competition. Any dogs who do not meet the breed standard are not accepted to participate in organised events.
Most French Bulldog clubs in America are affiliated or supported by the French Bulldog Club of America and any clubs that schedule competitions are licensed by the American Kennel Club.
You do not need to own a French Bulldog to join a club, simply being interested in the breed is enough to be granted membership, provided you meet certain club criteria.
French Bulldogs clubs across America organize or participate in a variety of shows such as obedience, rally trials, specialty classes, sweepstakes, and scent trials. National Specialty 2019 – French Bull Dog Club of America Many of these organized events include an evening party, mixer bar, or banquet dinner.
7 French Bulldog Clubs In America
There are many French Bulldog Clubs in the United States, both regional and national. Most rely on donations and membership payments to organise shows and events.
Many clubs will expect potential new members to be registered with the American Kennel Club and be sponsored by at least one existing member of the club they wish to join.
1. French Bulldog Club of America
This is the oldest French Bulldog club in the world. Established in 1897, the club was created to promote the quality of breeding and proper care of French Bulldogs.
All aspects of interest are supported by the competition and judging to breeding or simply the love of the breed. The FBDCA is a non-profit organization run by a board of volunteers.
2. French Bulldog Fanciers of Southern California
The FBDSC have several objectives including promoting, encouraging, and advancing the breeding and well-being of the breed, adhering to the breed standard adopted by the French Bulldog Club of America, and promoting a better understanding of dogs.
The French Bulldog Fanciers of Southern California is an American Kennel Club registered organization that was founded in 2000.
3. Northern California French Bulldog Club
Another AKC registered club, the NCFBC supports only the American Kennel Club's breed standard for French Bulldogs. They offer a lot of resources and information to support Frenchie owners with all aspects of health, care, and breeding.
They also have a list on their website of the French Bulldog rescues that they support.
4. Great Lakes French Bulldog Club
Founded in 2007 by several Frenchie owners, the GLFBC aims to support local owners, breeders and competitors, as well as providing education to the public about reputable breeders.
To join the GLFBC, you must have recommendations from two current club members, one of which must have visited the potential member's home within the last year.
5. Heartland French Bulldog Club
The Heartland club was established to provide French owners within the region as way to get together, socialise and compete.
As well as competitions, they also run events such as monthly meetings and 'meet the breed'. They maintain a regular news blog on their website with health advice, local dog news, and updated articles.
6. Southeast French Bulldog Club
The SEFBC covers Alabama, Tennessee, Florida, Georgia North and South Carolina and West Virginia. Like other Frenchie clubs, membership is open to everyone, but at least one current member needs to sponsor a potential new member.
The club runs regular events such as sweepstakes, local shows, and member meetings. They also publish the Frenchie Enquirer – a newsletter with breed information, club events, and local news.
7. The Ohio Valley French Bulldog Club.
This local club was founded by Frenchie owners and enthusiasts in 2012. The Ohio Valley club for French Bulldog owners and breeders runs several events such as confirmation, specialty and sweepstakes approved by the American Kennel Club.
They also run local fun matches, shows and The club covers the Kentucky area, including Louisville and Owensboro.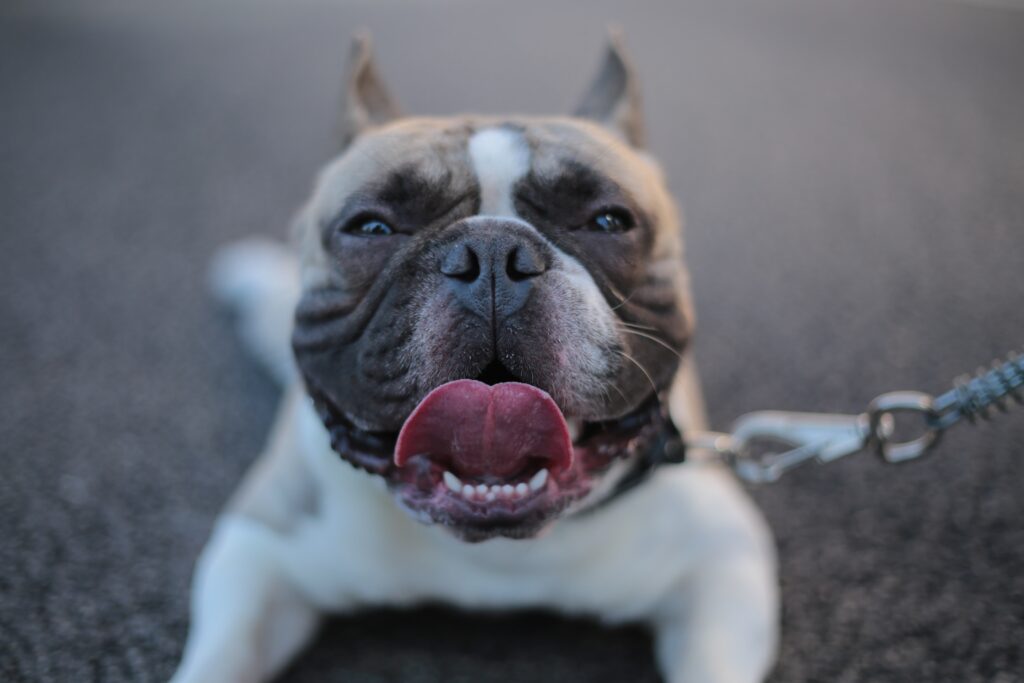 Final Notes
French Bulldog clubs across the country welcome new members every year. They all follow the breed standard set by the American Kennel Club, will others also accept the breed standard dictated by the French Bulldog Club of America.
In recent years these clubs have placed much more emphasis on education as the breed has become more popular and suffered intense scrutiny.
Brachycephalic (flat-faced) breeds are prone to breathing difficulties from an early age due to their breeding, which is why French Bulldog clubs are so passionate about providing information to the public and their members to help maintain the health and welfare of the breed.
Most clubs will support and recommend local reputable breeders who are registered with the American Kennel club which helps maintain the quality and health of the breed and also to highlight the importance of choosing a trusted breeder.
For the social aspect and the fun of competition, there is nothing quite like being a French Bulldog club member.